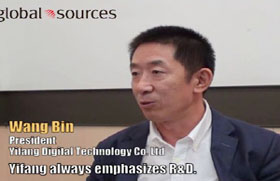 The supplier emphasizes mobile devices as a strategy to capture share in the surging portable display market.

In an effort to capitalize on mobile Internet solutions, portable electronics specialist Yifang Digital Technology Co. Ltd is concentrating R&D efforts on MIDs and taking on Android. The maker believes 2011 will see the device's peak development.

In an interview with Global Sources, Yifang president Wang Bin shares the company's continuing efforts to strengthen its technology base and advance its key product.

What is Yifang's R&D thrust? What are the company's key products this year?
Yifang always emphasizes R&D. Although the international economic situation has not been good in the past two years, Yifang continues increasing invest in R&D, spending 5 or 6 percent of sales on it in 2010. That's the highest level in our history. . The country's standard for a high-tech enterprise is 3 percent. For a manufacturing enterprise like us, 5 percent is really very hig a manufacturing enterprise.  R&D is the engine of an enterprise. We do everything to sustain it.

This year, our strategic products include MIDs. Our sales from the category this year are better than expected. We are lucky to have started development two years ago, enabling us to launch models and gain traction in the retail market before the iPad came. Up until this fourth quarter, we are actually under pressure to meet demand.

Another key product is the digital pen, which we released after our merger with Pegasus of Israel. We have added features to this outstanding device, which used to just interface with PCs. Now, you can upload information recorded using the pen directly and simultaneously to a smartphone, or write on a piece of paper and do the same via Bluetooth. We are developing it further to connect with MIDs and the iPad.

Essentially, all of our R&D efforts are geared toward what we call "Mobile Internet Solution", which is one of our key development directions.

What is the reason behind the acquisition of Pegasus? Is it technology or market distribution?
The acquisition is based on the company's need for strategic development. Currently, Yifang's approach targets solutions in the mobile Internet field, which is why MIDs constitute our key line. People call the MID the fourth display, and say everyone cannot leave home without it.

Here, the technology and the almost 60 worldwide patents that Pegasus holds are considerations, especially as Yifang's long-term plan is to build such a selection.

We are, in fact, set to release new MID models incorporating handwriting technology, and official launch is in the coming CES.

What do you think of the change from 'Made in China' to 'Created in China'?
We are right on that path and advocating this very slogan - "Created in China". Today, we bought a foreign company and invest heavily in R&D, it is all in the name of creating, not simply designing and manufacturing products.

What does the company see as challenges for Android MIDs in terms of R&D, costs and user acceptance?
To begin with, I think MIDs are more complex than, say, netbooks. From software to hardware, the latter is a mature product, being a simplified version of laptops.

In contrast, MIDs are new on the Android OS, which saw three upgrades in the past year and is expecting two more in the coming year.

Yifang's Android 2.2 system development is almost finished. Then, we will start working on the 3.0 version. This will surely bring a new round of challenges, firstly to R&D and secondly to manufacturing standards because MIDs are more complicated than netbooks.

Will Yifang do the same for MP3 and MP4 players? These devices are now also moving toward Android adoption after coasting through the larger screen, video playback and high definition trends.
Demand for traditional portable media players is still there. We are not going to give that up because our clients are still purchasing them. Even our MID buyers are still sourcing conventional MP3 and MP4 players. It is still a huge market so we will continue with further R&D on the products.

How do you rate the company's sales performance in 2010? What is its outlook for 2011?
We will achieve growth this year based on ongoing sales this quarter, while 2011 will be a special milestone mainly because of the MID market. According to projections, the line will have the fastest development next year.

There will be a jump in demand, mainly because of the rising popularity of the iPad and Samsung's Galaxy Android smartphone.

As Yifang's product acceptance in the market is very high, we anticipate significant sales growth in 2011.

How is Yifang contributing to "green" manufacturing and environmental protection?
Our clients come mainly from the US and Japan, which are advocates of the low-carbon emission cause so you can say our products represent the company's involvement in such efforts for the environment.

We started thinking about developing green devices two years ago. This, however, is a long-term concept and a gradual process. It needs accumulation and breakthrough.

About the company
Besides MIDs, Yifang offers portable digital TVs, flash MP3/MP4 players, e-book readers, USB flash drives and digital photo frames. Its model EP805 of the last was among this year's winners at the Global Sources' fourth annual Electronics Design Awards during the China Sourcing Fair in October in Hong Kong.

Based in Shenzhen, Guangdong province, the Apple-licensed iPod and iPhone accessory maker was listed among the top 100 private enterprises in the province in 2008-09.